I study the mesmerising textures within the natural world and then capture this beauty in my work. My current body of work focuses on objects and textures found in nature, as well as artefacts collected along the shores. I imagine my works as live objects. I document every piece and number them as a scientist would, these works are my sculptural specimens. I fuse leather with other organic materials, hand building forms and patterns that embody nature and our relationship with the natural world. My work focuses on documenting textures from the wild, in the hope the viewer too will appreciate the beauty, and hopefully question what they can do to help preserve it.
My work is organic and instinctive; one piece often leads to the next. In the absence of a template, my ideas take shape in the coordinated activities of eyes, ears, hands, and tools. Within the making process, I respond, develop and adapt my techniques depending on the shape or form. Each individual hand sculpted piece has thousands of leather disks meticulously placed to form complex textured patterns. This repetitive process is slow and meditative taking weeks to complete a single piece.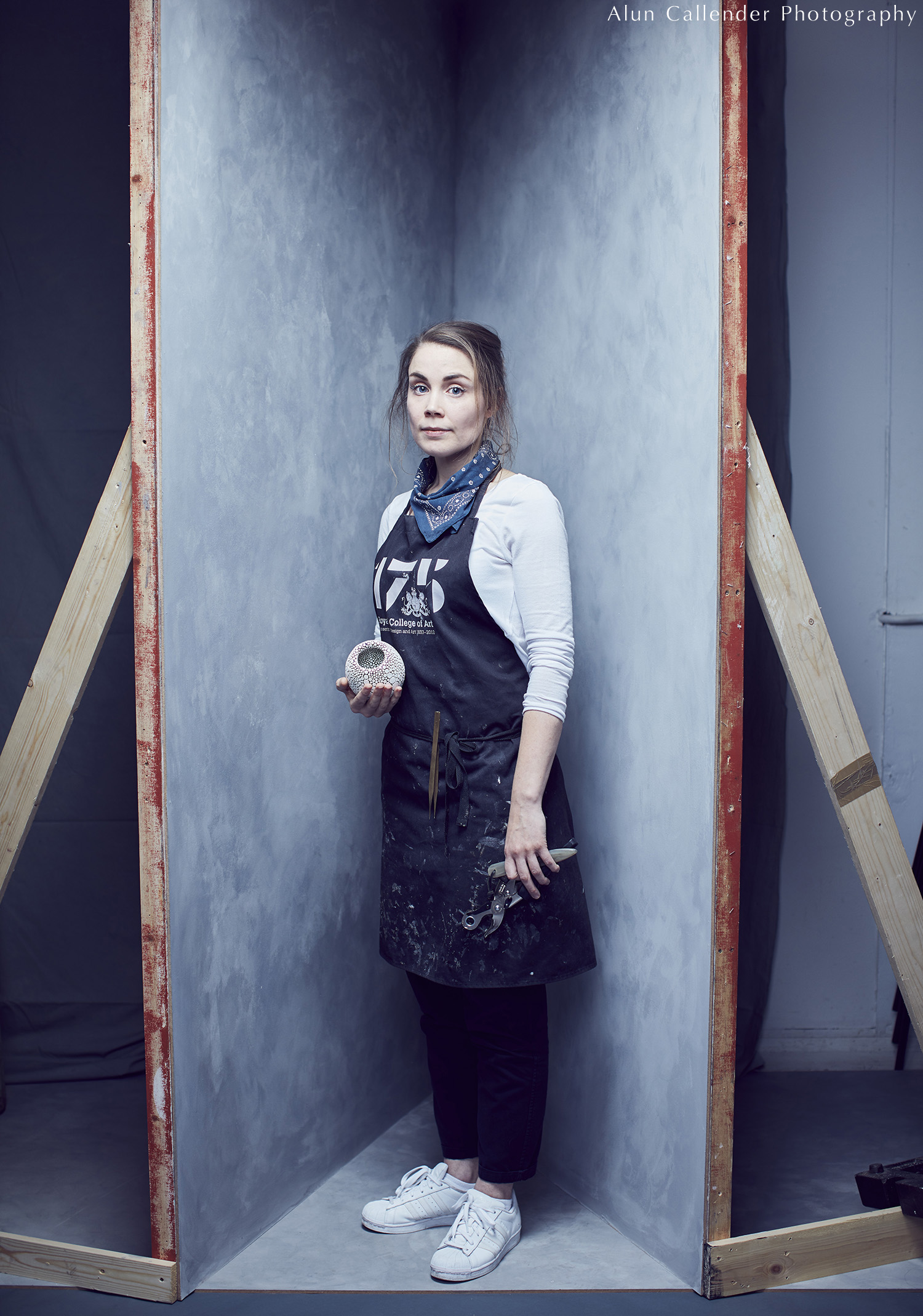 B O R N
· Wales
E D U C A T I O N
· The Royal College Of Art, London 2013
· University of Westminster, London 2009
S C H O L A R S H I P S / P R I Z E S
· New Designers, One Year In - 2019
· AGORED Art Prize - Galeri Caernarfon, November 2018
· Cockpit Arts / Leathersellers' Award 2017
· Jill Humphry Springboard Prize 2017 - Second Prize
· Cockpit Arts / Leathersellers' Award 2016
· Cockpit Arts / Leathersellers' Award 2015
· Leathersellers' Scholarship - Royal College of Art, London. 2011 - 2013
· University of Westminster Gold Scholarship 2006 - 2009
Brought up in rural North Wales, Fflur has always been inspired by nature. From an early age, she has been creating and developing her hand-making skills.
She has over 10 years of training in traditional leather working techniques. She discovered a love for leather whilst creating her final collection on her first degree in Fashion Design.
Wanting to develop her techniques further she went on to do the MA Accessories course at the Royal College of Art specialising in Leather. In 2015 Fflur gained a Leather Sellers Scholarship Award to set up her studio at Cockpit Arts, and she secured the scholarship for the following two years. Whilst at Cockpit Arts Fflur also won second place in the Jill Humphrey Springboard Prize 2017.
With the support of the prize and scholarships she has continued to develop her leatherwork skills and innovative techniques, pushing leather to its creative limits with her artistic practice.